It has been trending in the last 24hours , the heartbreaking video of an ex-wife of a billionaire who became a destitute. Aftet watching this emotional video what comes to mind should be these questions. Why did her husband abandon her? Did he dump her to get a more classy woman as a wife.
My mind was totally unsettled given that the woman in question has three children,twin boys and a girl for the ex-husband .But the truth is finally revealed. Hear directly from the mouth of a witness,
Billionaire that neglected his wife, Caught her wife Red Handed in Bed with Their Gateman
Here is what really transpired :
Many years ago when I was in primary school, Cacudu Benson is the owner of marble hill in benin,he was one of the first guys that started 19 and resigned he made so much money her name is obehi,he loved her so much bought her one of the best cars then,she had twins& 1 which makes the children 3,She slept with her gateman who her hubby paid & her reason was that the man was too busy for her.
she did it in Abuja then, he didn't talk or shout,he drove her to Benin & dropped her @ ring road he was heartbroken had to leave the country with his kids cos he couldn't stay in around Abuja not to talk of Nigeria cos he said he would still feel it.
the man almost ran mad,she was doing it even when Benson was around, she should say the reason, this woman was worshipped by Ben then,every woman said they wanted to be like her,see her crying now without begging for her wrong, the man told her to marry the gateman and left.
Not all that glitters is Gold, jumping to conclusions in any matter is partial.
Posted by Ebigold, the witness.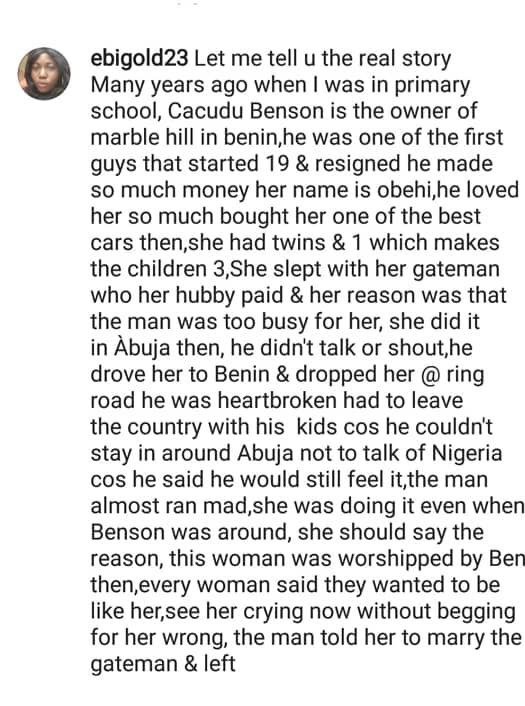 No matter what this woman has done for the sake of those children he has with him.He should forgive and help out this terrible conditions.
Subscribe to our newsletter for more juicy updates videos and photos. Don't forget to share this story