Ihedioha Heads To Supreme Court For The Review Of The Jugdement But There Is A Reason He May Fail. Read and know The Reason
Nigerians woke up earlier this month to the judgement of the Supreme court which removed Emeka Ihedioha as the Governor of Imo State and enthroned Hope Uzodimma as the rightful winner of the 2019 gubernatorial election in Imo State. And Hope Uzodimma has since resumed office as the executive Governor of Imo State.
This date 14th of January,2020 the supreme court sacked the former governor of Imo state Emeka Ihedioha and put in his place Hope Uzodinma as the executive governor of the State to be in charge of Douglas House.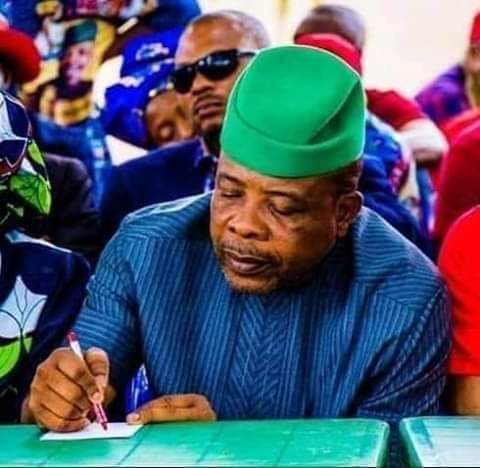 There were series of events ranging from protests in the state and agitations asking the supreme court to give justice to Emeka Ihedioha of PDP.
Rt. Hon. Emeka Ihedioha Has Headed To The Supreme Court For The Review Of The Judgement That Removed Him From Office, Enthroning Senator Hope Uzodinma As Imo State Governor Instead; The 388 Polling Units Results Which The Supreme Court Relied On To Declare Judgement Were All Fake .
Emeka going for the review of the Supreme Court judgement is his right but it may amount to futility as there are enough evidences of election fraud.
The signpost presented on the picture above said it all.
Aboh Mbaise has 22,853 accredited voters but the vote screened became 64,000 .What a miracle!!
Ezinihhite Mbaise has accredited voters totalling 11,755 but votes screened was 31,000.
Ahiazu Mbaise has accredited voters totalling
9,432 but screened votes sky rocketed to 30,912. This is one of the wonders of Mbaise.
Though he has the right to review his judgement but he may not succeed.
What's your take on this? Please share and comment in the comment section.
Subscribe to our newsletter for more juicy updates videos and photos.