The former most beautiful girl in Nigeria Anna Ebiere posted this loved up picture she has with Flavour and disabled her comment handle on Instagram.
Flavour is holding hostage the hearts ot two undeniable beautiful queens officially recognised in Nigeria.How did he do it?How is he holding their mumu buttons when thousands of flavoured Nigerian men are ready to pay the price to have any of them.How do you describe a lucky man. Flavour I remove my cap for you.You are a man in another class.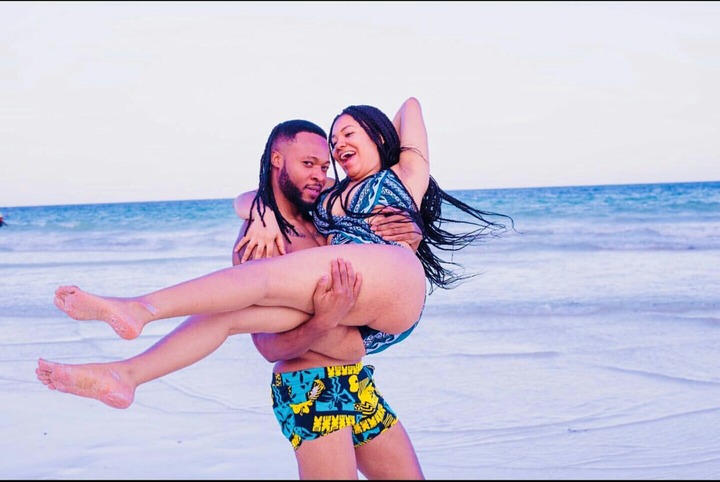 Former most beautiful girl in Nigeria Anna Ebiere Banner seems to have finally confirmed her relationship with singer and baby daddy, Flavour Nabania.
The beauty queen who had her daughter with Flavour four years ago seemingly walked out of the singer's life after much controversies and the murmurs that trailed her becoming a baby mama.
Anna had announced to everyone who cared to listen that she was done with the relationship and moving on with her life even though Flavour was her first love.
The singer on his part left many confused after he went back to his first baby mama Sandra Okagbue and the union produced yet another child. On many occasions, Sandra had made it clear that Chinedu aka Flavour was her man, going as far as tatting his name on her body.
Meanwhile Anna steered clear of all the debates until this morning, the last Sunday of the year 2019 when she shared a photo of herself with baby daddy at the beach.
Anna had shared the photo and smartly turned off her comments leaving no room for questions or debates.
Anna we are waiting for you to ditch out some truth because Nigerians are waiting for you on Instagram.
Many questions without answers.Is she finally getting married to Flavour. What of Queen Sandra.Anna has shaken this table and we are ready to hear the good news.
Subscribe to our newsletter for more juicy updates videos and photos. Don't forget to share this.