I wrote earlier about Angela Okorie's reply to trolls who said she faked her attack to promote her new music and other ladies named Ifeoma fine girl and Ifeoluwa Oluwa who exposed Angela Okorie's said double life of cheating,sleeping with both influential husband and wife. More facts are still arising.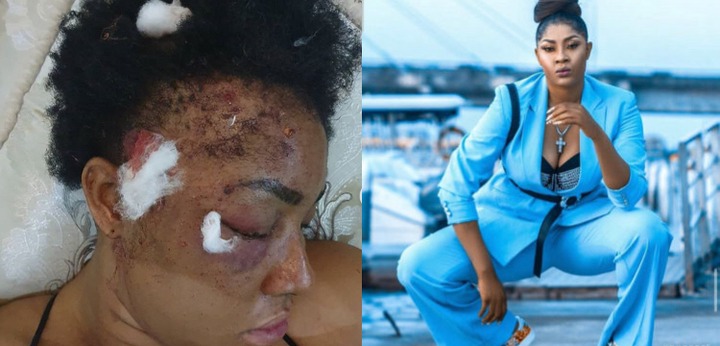 And more might still come up.
The new report has it that Angela was indeed attacked with an intent to blind her as a warning to stay off someone thus the swollen face we all saw but there was no such thing as a shootout for 30 mins nor 10 bullets to the head like we were told.
Now the gist, Angela is said to be a bisexual and was having an affair with an eastern governor and his wife who is based in America.
The couple is said to be unaware of what our sumptuous actress Epain dem singer was doing and when the wife found out, she warned Angela to stay off her husband but Angela kept on to make more money from the situation and then she blackmailed the lady and also blackmailed the said governor.
Angela received a stronger threat warning to stay off the territory of the said governor.
Blessing Okoro betrayed Angela as she leaked the secret affairs to the governor and his wife as Angela allegedly sleeps with both.
Blessing Okoro allegedly sold out Angela Okorie to the wife of the governor about the double dating thing the actress was doing and Blessing was paid handsomely. Blessing is said to be fully aware that an attack was going to be launched on Angela as she was said to be involved in giving a detailed analysis on how to find her friend.
After the attack, Angela found out about the betrayal and has since unfollowed Blessing Okoro on social media.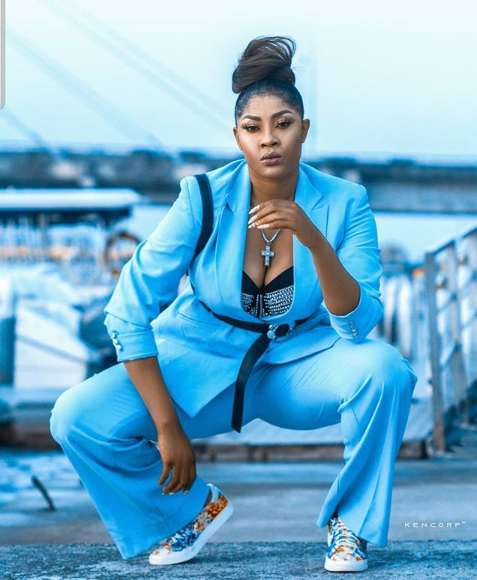 Okoro Blessing,the audio house crooner didn't post or say anything relating to Angela Okorie alleged attack on her page? but was quick to support Angela against Tacha days ago which has earned her 20-million-naira lawsuit for defamation from Tacha Akide.
Here are those who did their investigation and was able to dig out what they say is the truth.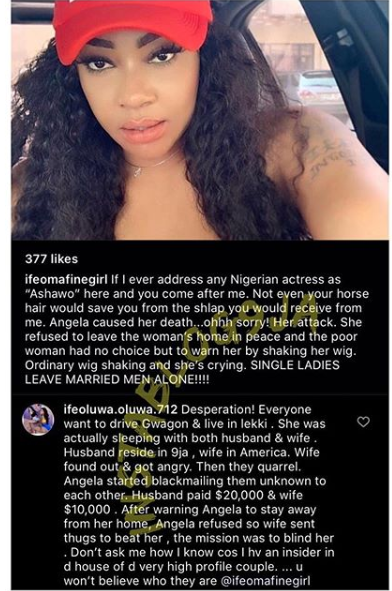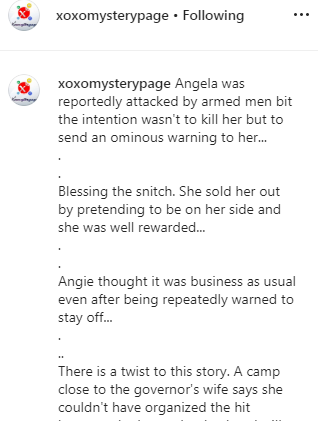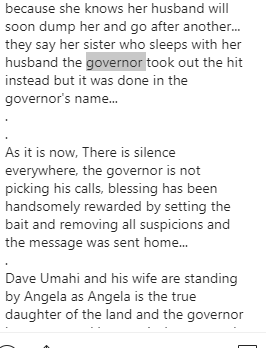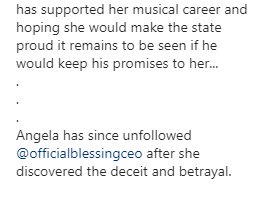 We will keep you updated.
Subscribe to our newsletter for more juicy updates videos and photos and don't forget to share this post.
Note:This investigation was not personally done by me. I am just a reporter.